Hi everyone. Sorry I've not been posting much, but I'm back, and I'll try to remember to keep filling this blog with some goodies, starting with this one.
Today's generation knows Tiffany Darwish as more of a washed up singer who's made income by going on reality shows like
Celebrity Fit Club
and posing for Playboy. And while I admit, I was out of the pop culture loop for most of my youth. I didn't even start entering it until I was about 15 or 16 because I was wrapped up in my own little world of musicals and Disney, so I never even HEARD of Tiffany until she popped up on "Where are they now" shows, but MOST of my generation remembers Tiffany Darwish as a teen pop mall queen who just went by her first name. (Holy run-on sentence!) In 1987 and 1988, Tiffany ruled the charts with a string of successful singles and two top 20 albums that each went multi-platinum. However, by the end 1988, Tiffany's chart reign was slowing down and Tiffany's life was tangled up in a web of personal and professional drama.
When Tiffany finally released her third album,
New Inside
, in 1990, Tiffany had shed her wholesome teen pop sound for a more edgier urban sound and fans and record executives expected the album to fix her sagging popularity. Unfortunately, the opposite happened. The album as well as its singles, "New Inside," "Here In My Heart," and "Back In The Groove," failed to chart and the album quickly became the last studio album of hers that would be released in the US for a decade, although an unsuccessful Greatest Hits album would be released in 1996, and her 1993 album
Dreams Never Die
would be an Asia-only release until 2005, when Tiffany's former manager and producer George Tobin would release it through the CD Baby website.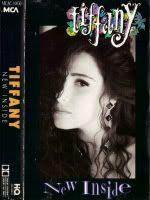 To be honest, I can't see why this album flopped so badly. I think for the time and sound, it probably should have been a bigger hit. Unfortunately, by this time, Tiffany's reputation had already been damaged by her teen pop past, plus the fact that it had been two years since her last album had been released - for a teen pop star in ANY decade, that's a dangerously long time to go without releasing new material.
Due to the album's commercial failure, MCA Records took it out of print years ago. CD copies on the internet often go for as much as $75, if not higher. I recently stumbled upon a cassette tape at a used music/movies store, which cost me all of 52 cents. (49 cents + 6% sales tax) This is a rip from that cassette, although were it not for the minimal amount of tape noise and the occasional slight anomaly associated with the medium of audio cassette tapes, one would have a difficult time knowing it. A little note: my cassette is from the first run, where the song "Here In My Heart" is dedicated to the memory of Ryan White, the AIDS victim who was infected to a blood transfusion containing the HIV virus when he was 13. Later on, the song would be re-dedicated to the troops fighting in the Gulf War.
So here's the long-forgotten and long-out of print Tiffany album,
New Inside
, ripped from the cassette in 256 KBPS MP3 format. The ZIP file not only contains the album but also scans from the cassette insert.
1. New Inside (5:33)
2. It's You (5:18)
3. Tenderly (5:21)
4. Never Run My Motor Down (3:54)
5. Here In My Heart (4:06)
6. Tiff's Back (3:49)
7. Our Love (5:57)
8. Life Affair (4:02)
9. Back In The Groove (4:31)
10. There Could Never (7:33)
DOWNLOAD! (90.56 MB)